Publications of interest to medical CBRN First Responders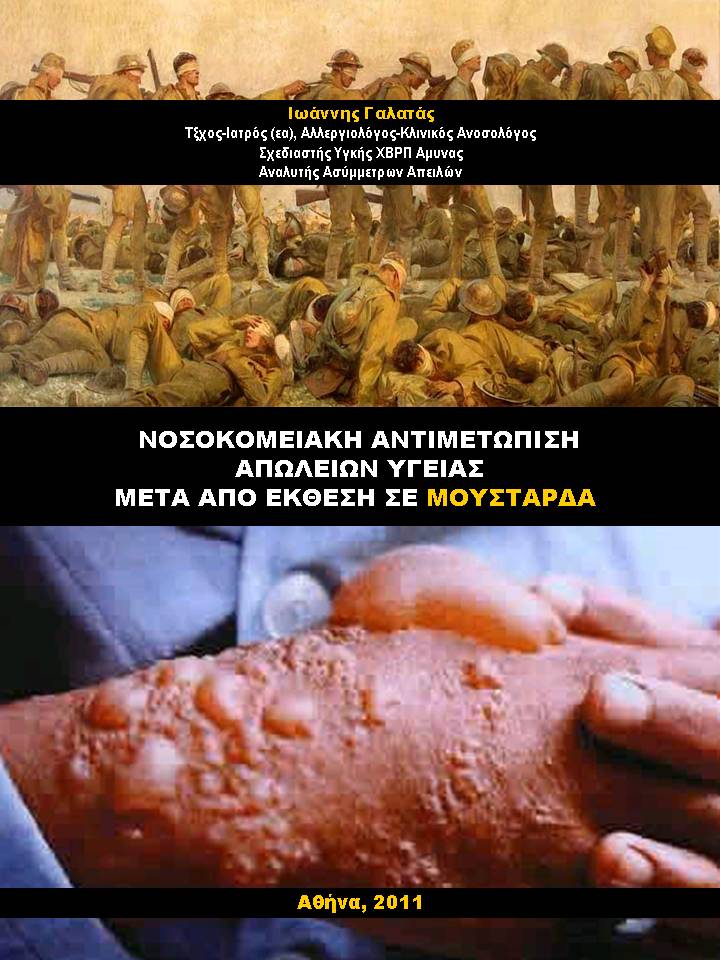 Νοσοκομειακή Αντιμετώπιση Απωλειών Υγείας μετά από Εκθεση σε Μουστάρδα
Ιωάνης Γαλατάς (Ed)
Hospital Management of Health Casualties following Exposure to Mustard gas
Ioannis Galatas (Ed)
2011, 132 p, 30 illus, on-line edition (in Greek)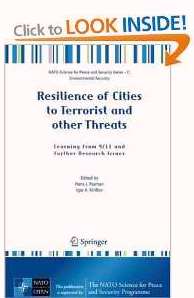 Resilience of Cities to Terrorist and other Threats: Learning from 9/11 and further Research Issues
NATO Science for Peace and Security Series C: Environmental Security
Publisher: Springer (2008); 545 pages
Galatas I (2008). Medical Countermeasures following terrorist CBRNE attack in urban environment; pp. 401-15.
Cities tend to become more crowded, the high rise buildings taller, the traffic nodes more complex. The volume of hazardous cargo passing increases with the growth of economy and the expansion of technology. As we have seen in the recent past, cities can become too easily a focus of terror. To counter these trends measures have to be taken.
This book presents an overview of threats and measures based on a NATO advanced research workshop meant to make an inventory of items on which, for making progress research will be worthwhile to perform. The spectrum of subjects is broad. It covers various types of hazard threats, the mechanisms of collapse of structures including the doubts about why the WTC buildings collapsed following the impact of aircraft and the ensuing fires. New materials will offer improvements for protection, progress will be described in analyzing the robustness of structures against loading of various nature, and what can be gained by well performed risk control and planning of emergency response, taking trade-offs into account and requiring the new approach of scenario analysis.
The book also contains an excellent report about the people flow along evacuation routes. It finally considers warning and communication systems and ways to motivate people to protect themselves.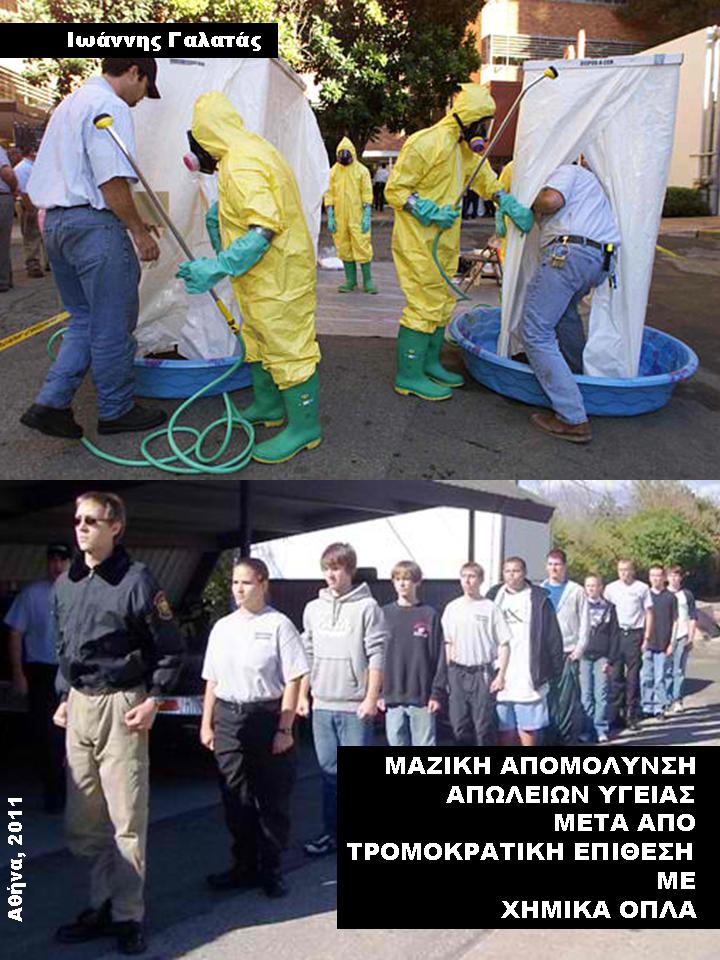 Μαζική Απολύμανση Απωλειών Υγείας μετά από Τρομοκρατική Επίθεση με Χημικά Οπλα
Ιωάννης Γαλατάς (Ed)
Mass Casualties Decontamination following Terrorist Attack with Chemical Weapons
Ioannis Galatas (Ed)
2011, 32 p, 25 illus, on-line edition (in Greek)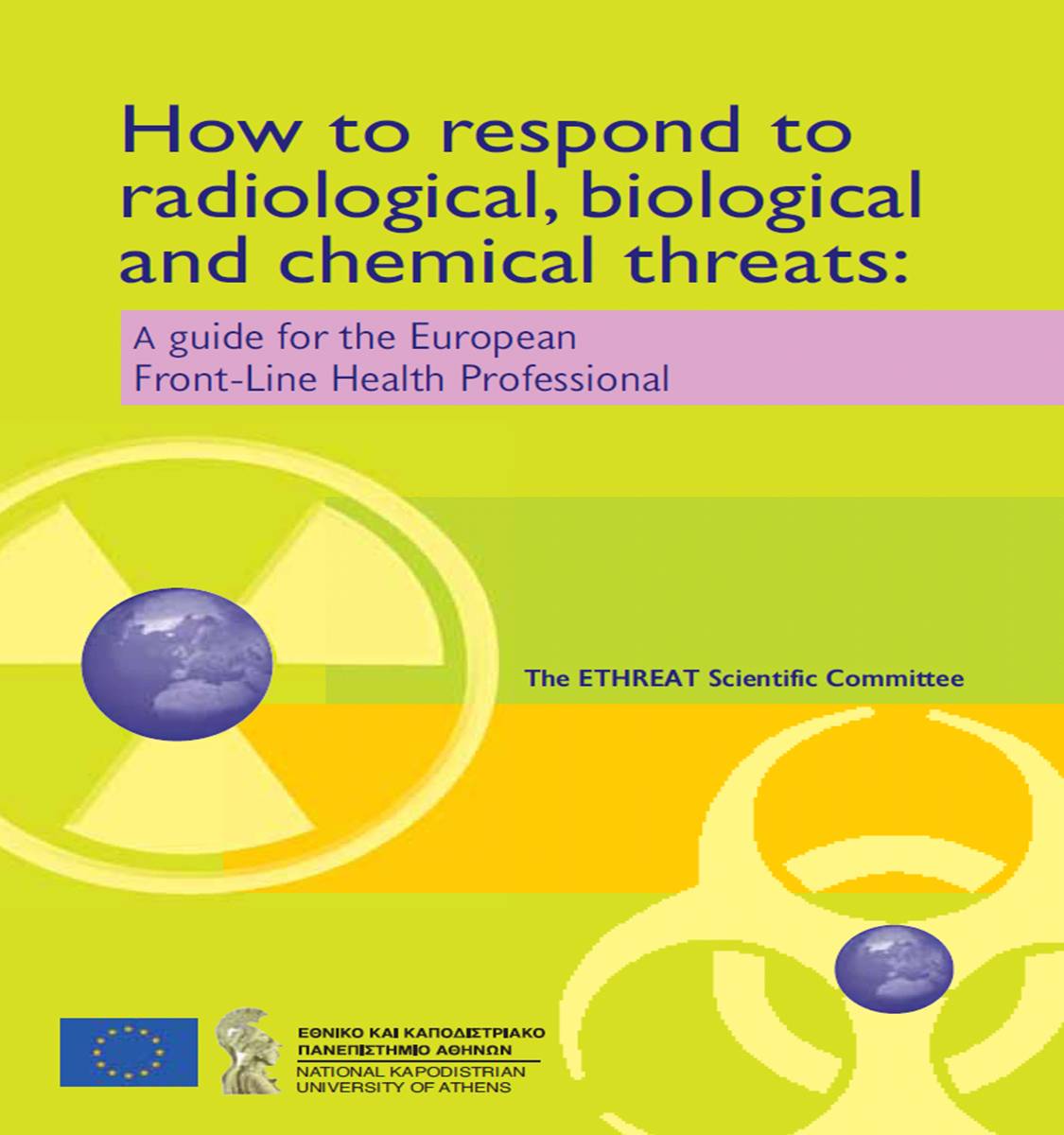 How to Respond to Radiological, Biological and Chemical Threats – A guide for the European Front-Line Health Professional
The ETHREAT Scientific Committee
Publisher: NKUA (2009); pp.124
ETHREAT Project Officer: Germain Thinus (SANCO-C3)
Contributors: Agoritsa Baka, MD; Eirini Andriopoulou, MSc; Ioannis Galatas, MD, MA; Evangelia Tavoulari, MD, MSc, Evangelos Alexopoulos, MD; Eleni Riza, MPH, PhD; Athena Linos, MD, MPH, PhD (project leader)
Partners: Greece (Coordinator), Czech Republic, Poland, Germany, United Kingdom, Bulgaria
Accompanying material: (1) CD [presentations and educational material presented in the pilot course that took place in Athens [May 2007], (2) Bio- and Chem- ETHREAT-Cards
The aim of the handbook is to assist training institutions, universities and public health authorities in the education of health professionals, so as to enhance the European human capital on the timely identification, the management and response to events that could be the result of deliberate attacks with the use of biological, chemical and radiological agents. In other words, the educational package contains the basic necessary knowledge and training material to empower European health professionals, including armed forces health personnel, to clinically recognize and to respond rapidly and adequately to new public health threats, like attacks with biological, chemical and radiological agents.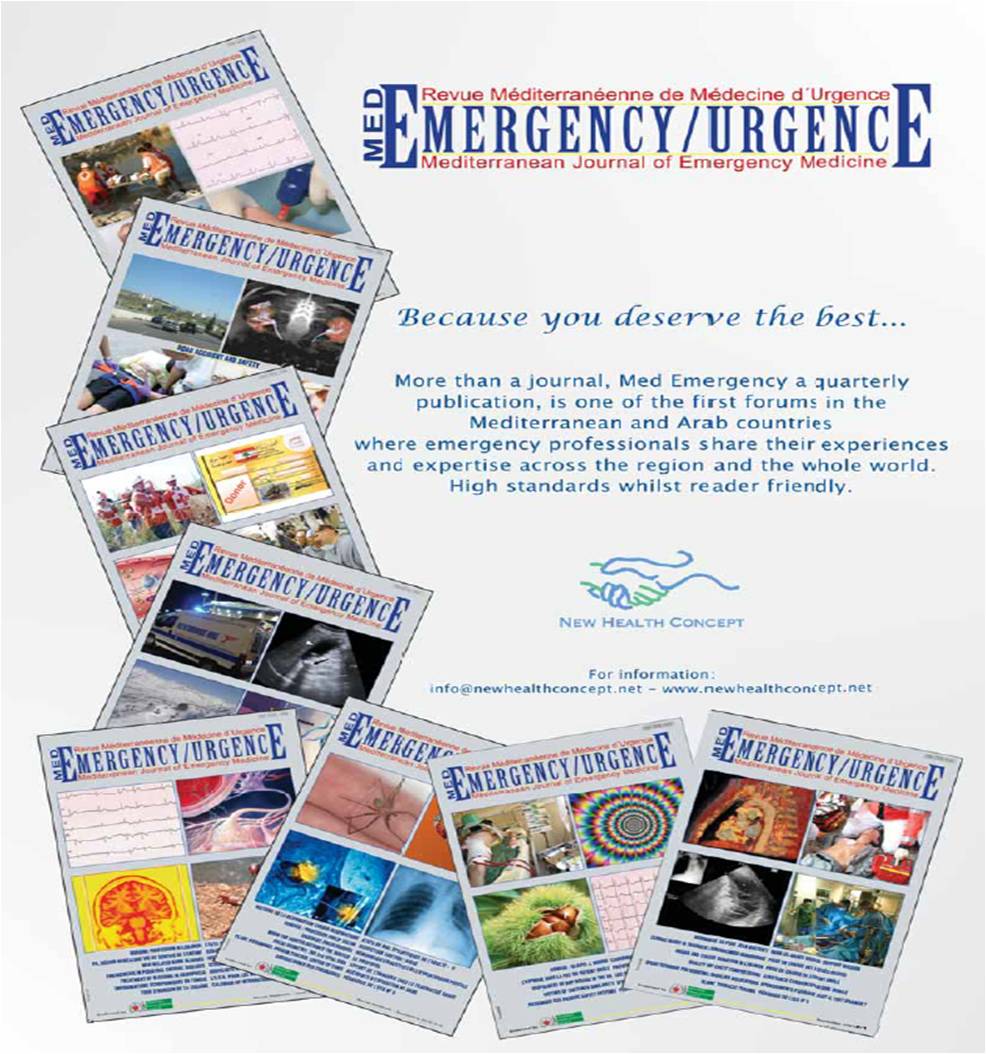 Mediterranean Journal of Emergency Medicine
Med Emergency, the Mediterranean Journal of Emergency Medicine, is a new publication that is being published in Lebanon and distributed in the Mediterranean and the Arab countries. It is one of New Health Concept's (NHC) main projects to support healthcare professionals improve the quality of care they deliver. In contributing to these efforts, the idea and concept of Med Emergency were born as one way to raise the interest of the health sector in emergency medicine to become a platform for disseminating international scientific findings, information and research about emergency medicine and for discussing issues that have policy implications in the region.
Many free issues are available
here
.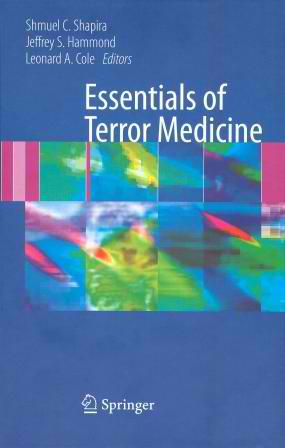 Essentials of Terror Medicine
Shapira, Shmuel; Hammond, Jeffrey; Cole, Leonard (Eds.)
2009, XVI, 452 p. 79 illus., Hardcover
Comprehensive coverage, from first response to forensics
Written by an international list of recognized experts
First text of its kind detailing the new and expanding field of terror medicine
A new field of medicine has emerged as a result of the global proliferation of terrorism. Terror medicine is related to emergency and disaster medicine but focuses on the constellation of medical issues uniquely related to terrorist attacks. The field encompasses four broad areas:
Preparedness
Incident management
Mechanisms of injuries and responses
Psychological consequences.
In Essentials of Terror Medicine, these core concerns are addressed by a distinguished international authorship that has been brought together by the three editors of this volume, who themselves are recognized experts in relevant disciplines: Shmuel Shapira, epidemiology and hospital administration; Jeffrey Hammond, trauma surgery and emergency response; Leonard Cole, bioterrorism and public policy. Moreover, many of the book's 35 contributors have had immediate and extensive experience in the medical management of terrorist attacks. The book provides insightful and practical information for physicians, nurses, emergency responders, and other health professionals who may be called to service during or after a terror incident. Essentials of Terror Medicine is indispensable reading for the medical community of the 21st century, in which diligence, continued education, and careful preparation for a variety of possible events are a pre-eminent responsibility.
Disaster Medicine: Comprehensive Principles and Practices
Kristi L. Koenig MD (Editor), Carl H. Schultz MD (Editor)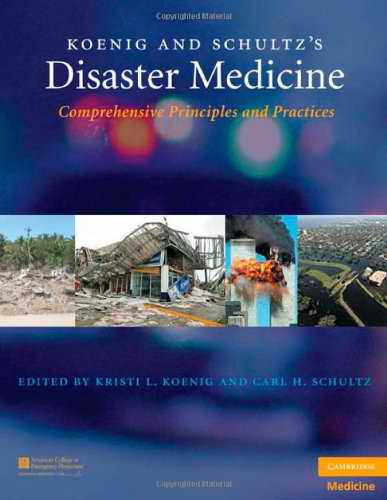 Hardcover: 696 pages
Publisher: Cambridge University Press; 1 edition (September 30, 2009)

As societies become more complex and interconnected, the global risk for catastrophic disasters is increasing. Demand for expertise to mitigate the human suffering and damage these events cause is also high. A new field of disaster medicine is emerging, offering innovative approaches to optimize disaster management. Much of the information needed to create the foundation for this growing specialty is not objectively described or is scattered among multiple different sources. Now, for the first time, a coherent and comprehensive collection of scientific observations and evidence-based recommendations with expert contributors from around the globe is available in Koenig and Schultz's Disaster Medicine: Comprehensive Principles and Practices. This definitive work on Disaster Medicine identifies essential subject matter, clarifies nomenclature, and outlines necessary areas of proficiency for healthcare professionals handling mass casualty crises. It also describes in-depth strategies for the rapid diagnosis and treatment of victims suffering from blast injuries or exposure to chemical, biological, and radiological agents.
CBRN and Hazmat Incidents at Major Public Events: Planning and Response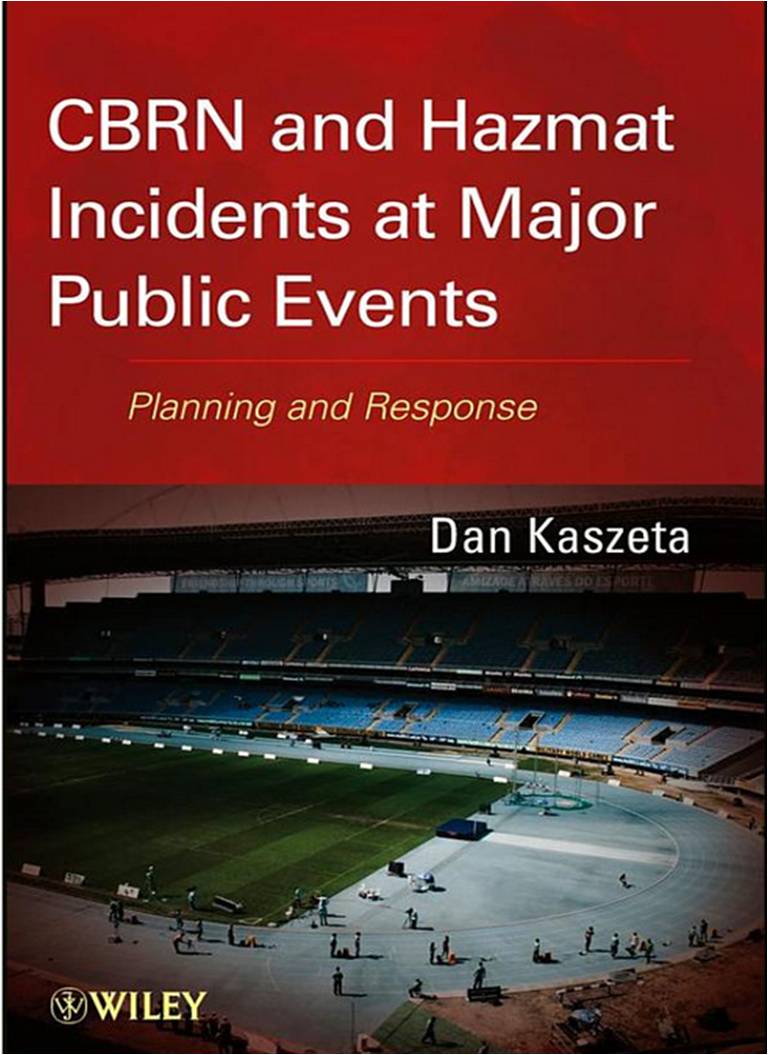 Dan Kaszeta (2013)
Sets forth what to do and what not to do to keep people and property safe
Based on the author's more than two decades of managing core facets of emergency planning and response, this book enables readers to minimize the possibility of a chemical, biological, radiological, or nuclear (CBRN) disaster or a hazardous material (hazmat) incident at public events. Moreover, it sets forth the tools needed to quickly respond to an incident in order to avoid or minimize casualties and damages. With its comprehensive approach, the book equips readers to plan for and manage a multi-disciplinary safety and emergency response team, including police, security, medical, military, and fire and civil protection
VBIED IN IRAQ
Provided by a friend of a friend stationed there. Observe the big truck moving slowly before the military convoy following until the detonation happens.
Big collection of interesting papers on medical preparedness (Canada)


Three very interesting guides on radiological/nuclear terrorism preparedness.

2011- Eliminating Preventable Death on the Battlefield
Arch Surg. Published online August 15, 2011
Objective: To evaluate battlefield survival in a novel command-directed casualty response system that comprehensively integrates Tactical Combat Casualty Care guidelines and a pre-hospital trauma registry.
Design: Analysis of battle injury data collected during combat deploy-ments.
Setting: Afghanistan and Iraq from October 1, 2001, through March 31, 2010.
Conclusions: A command-directed casualty response system that trains all personnel in Tactical Combat Casualty Care and receives continuous feedback from pre-hospital trauma registry data facilitated Tactical Combat Casualty Care performance improvements centered on clinical outcomes that resulted in unprecedented reduction of killed-in-action deaths, casualties who died of wounds, and preventable combat death. This data-driven approach is the model for improving pre-hospital trauma care and casualty outcomes on the battlefield and has considerable implications for civilian trauma systems.
Clinical Treatment Guidelines for Wildland Fire Medical Units
A publication of the National Wildfire Coordinating Group (July 2012)
Focused on guidance for the unique differences and challenges associated with remote sites and expanded evaluation skills needed for patient care issues such as:
1) Assisting a patient with first aid and self-care health management;
2) Triaging conditions for recognition of appropriate self-care assistance vs. need for transport to clinical medical care; and
3) Initiating urgent/EMS care using appropriate and predetermined transport modes.

2011 – CDC: Public Health Emergency Response Guide for State, Local and Tribal Public Health Directors - Version 2.0 (April 2011)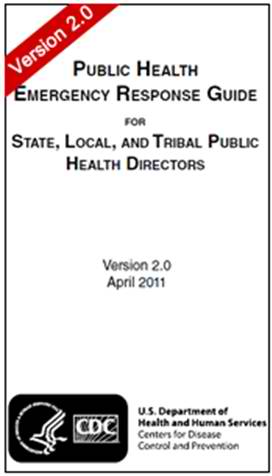 Terror Bombing: The Global Urban Threat
By Hayim Gra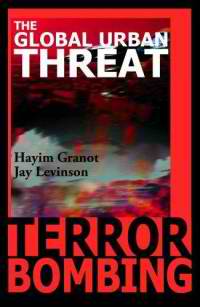 not (Author) and Jay Levinson (Author)
Release Date: March 20, 2009
The True Golden Hour offers a unique understanding of the latest findings on population reaction to natural or man-made disasters all over the world; and in particular enhanced by Israeli extensive experience. This updated edition of the book shows that, contrary to popular belief, people can deal with pressures derived from the most difficult emergency situations such as floods, fires, earthquakes, and more. Professor Hayim Granot, a leading Israeli authority with recognized international standing in this area, has extensive background in civil defense practice. In The True Golden Hour, he combines comprehensive knowledge of worldwide research on human behavior under extreme circumstances with his own practical experience during the Gulf War.



Conflict and Catastrophic Medicine
Editors: Adriaan P.C.C. Hopperus Buma, David G. Burris, Alan Hawley, James M. Ryan and Peter F. Mahoney (2nd Edition - 2009)

The experienced authors and editors provide us with an expanded and
improved valuable resource. The first edition of Conflict and Catastrophe Medicine was of great value, particularly to those studying for the Examination for the Diploma in the Medical Care of Catastrophes under the auspices of the Apothecaries of London. Having worked extensively with all of the Editors, I have learned considerably from all of them based on their vast individual and collective experiences as well as the academic and teaching abilities of all involved. Admiral Hopperus Buma, COL/Professor Burris, General Hawley, COL (Ret.)/Professor Ryan, and COL/Professor Mahoney representing perspectives from the Netherlands, the UK, and the USA have had broad civilian and military experiences at multiple levels in government and in healthcare delivery throughout the world. These editors/authors have augmented and complimented their own experiences with specific contributions by other authors who have had significant recent experiences. The six sections in the Table of Contents provide a rapid review and help identify specific areas of interest ranging from a broad spectrum of medical responses to both natural and man-made disasters, including military conflicts. The topics range from health planning in action in the Rwanda Crisis and from "Operation Phoenix" with the British Medical Aid Program in Sarajevo in the Balkans to multiple other topics including conflict recovery and ethics involved with those who have the misfortune to be injured or who are deprived of even the basics for human survival. This is a "must read" for anyone working in the broad field of conflict and catastrophe medicine to include those in non-government organizations (NGOs), military medical personnel around the world, and those in government addressing these global challenges. Specifically, this will be the primary source for review for those being examined for the Diploma in the Medical Care of Catastrophes. The material is informative and interesting being well organized. Hopefully, reading this material and teaching from this book will create an exciting incentive in others to contribute to those less fortunate around the world as "globalization" becomes more part of our common existence.
First-response Medicine For Terrorist Attacks: What to Do in the First 10 Minutes
Barry M. Miskin (Author)
Paperback:

96 pages

Publisher:

Paladin Press; 1St Edition edition (March 1, 2004)

Language:

English
This book provides precise instructions for assessing and treating burns, responding to impact or blast injuries, preserving severed limbs, controlling bleeding, decontaminating people exposed to toxic chemicals, administering CPR to adults, children and even pets, and much more. It should be in every home, business, government office, school and vehicle in the country.
Barry Miskin MD, FACS, has been a leading surgeon in Palm Beach County, Florida, for the past 15 years and is actively engaged in the care of trauma victims on a daily basis. He has worked in level one and level two trauma centrers for more than a decade.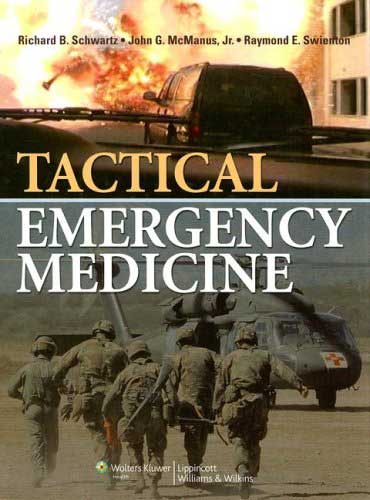 Tactical Emergency Medicine
Richard B. Schwartz (Editor), John G. McManus (Editor), Raymond E. Swienton (Editor)
Hardcover: 352 pages

Publisher: Lippincott Williams & Wilkins; 1 edition (December 17, 2007)

Language: English
This brief, practical text covers all aspects of tactical emergency medicine—the practice of emergency medicine in the field, rather than at the hospital, during disasters, police or military conflicts, mass events, and community incidents. Key topics covered include hostage survival, insertion and extraction techniques, continuum of force, medical support, planning and triage, medical evaluation in the incident zone, care in custody, medical control of incident site, decontamination, community communication, and more. Boxed definitions, case scenarios, and treatment algorithms are included. The concluding chapter presents "real world" scenarios to run tactical teams through and lists recommended training programs and continuing education.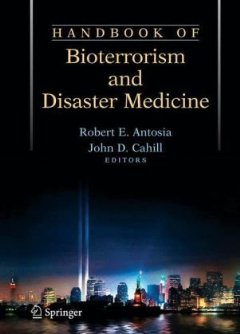 Handbook of Bioterrorism and Disaster Medicine
Robert Antosia (Editor), John D. Cahill (Editor)
Paperback: 492 pages
Publisher: Springer; 1st Edition. edition (October 29, 2010)
Language: English
This is an essential portable handbook on bioterrorism and disaster medicine. Its practical and comprehensive text features chapters pertinent to bioterrorism, infectious disease, microbiology, virology, public health, epidemiology, and disaster medicine. It will serve as a practical guide for situation-specific disasters; recognize what injuries or illnesses to expect; provide proactive guidelines to define specific diseases; and give a guide of appropriate personnel protective equipment during these large-scale emergencies. It is an essential companion to those either interested or currently working in any of the aforementioned fields.
"The textbook, which is composed of 7 chapters, is well-written and easy to read. The chapters are designed, as noted by the editors, to be concise and well-supplemented with Web-based resources. … Overall this text is a useful and well written reference that addresses a wide variety of topics, with a concise and logical approach. In conclusion, this text is well written for those who need a concise primer on bioterrorism and disaster medicine … ." (Steven E Sittig, Respiratory Care, Vol. 52 (11), 2007)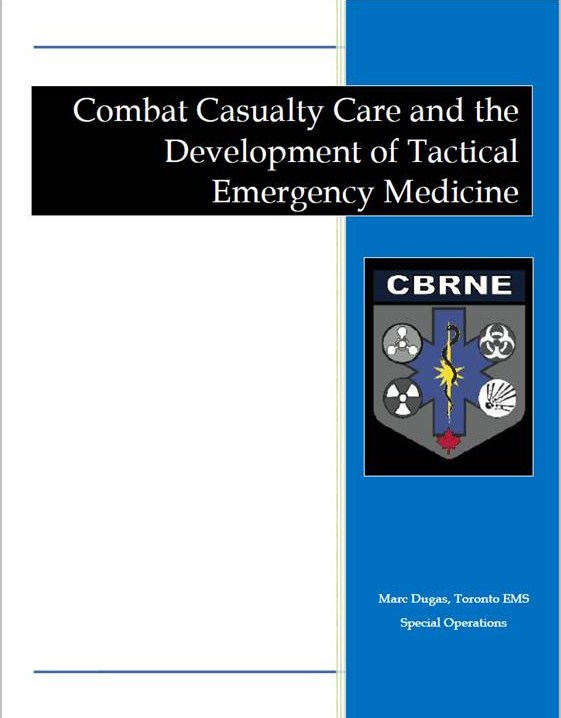 By Marc Dugas, Paramedic (Canada);
CBRNE Technician;
Editor: "ThreatWatch" (Toronto CBRN Newsletter)