02 April 2015
Dear Brig John Galatas, MD

Greetings from India. I was wanting to send this mail for quite some time to congratulate and compliment you and your team for bring out such voluminous collection of CBRNe related issues each month through the News letter. It must be involving tremendous work collecting, getting approvals, compiling and putting in a systematic order the huge volumes of information. I go through the news letter in great detail and update myself on the subject. Thank you for your great service to the humanity.
Wishing you and your team continued success in your endeavors to serve the humanity.

Warm Regards

Colonel (Retd.) H R Naidu Gade
Chief Consultant
CBRNe Secure India
C 407, Mega Centre, Hadapsar, Pune 411028, India

http://www.cbrnesecureindia.com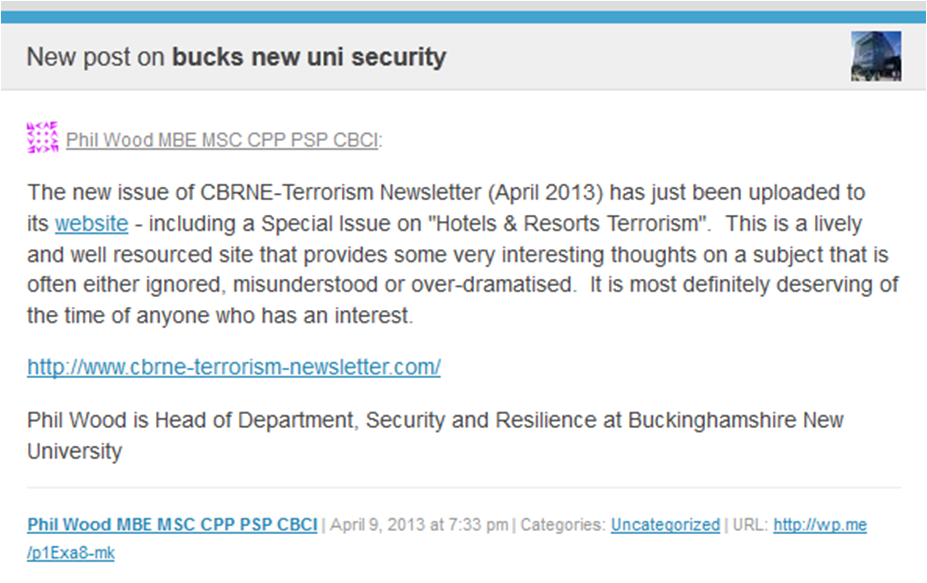 Dear Ioannis
I saw the last newsletter. Congratulation! It is very good and complete. I will share it with everybody that is looking for similar subjects.

Best regards
Ahmadreza
Ahmadreza Djalali, MD
Department of
Clinical Science
and Education
Karolinska Institute
Stockholm, Sweden
John:
This is an excellent product. Thank you for sharing it with me. I would like to get your permission to include your articles in our bi-weekly newsletters. We have over 10000 subscribers who read our significant activities reports on regular bases.
Regards,
Mehran Rastakhiz, Phd MPA
Center for Security and Emergency Management
http://www.c4sem.org
"I was just reading your "CBRNE-Terrorism Newsletter" the other day, and it seems apsolutely interesting and very well done. One can see a true expert is behind all that work! Congratulations!!!"
Antun Krešimir Buterin
executive editor
- the only Croatian security magazine -

Radnička cesta 48,


10000 Zagreb, Croatia


tel: + 00 385 1 6062 872
mob: + 00 385 98 939 0060
web:
www.zastita.info
Thank you for your newsletter and all the information contained therein.
A very useful source of relevant CBRNE information and material to download.
Happy New Year to Greece!
Dear Sir,

Having just found your newsletter website, can I congratulate you on a job well done. It's great to have so many resources available from one site. Also would it be possible to have a password for the 666 section please.
Keep up the good work.
Regards
Stuart Rhind
Duty Operations Manager
Tendring Area, North Essex (UK)

Dear Brig,
Thank you for the mail and new issue. It is always very enriching to read the CBRN Terrorism Newsletter. Thank you!

Regards
Col (MD) Ram Athavale (ret'd)
Experienced Risk, Crisis Mgt,HR, Operations and CBRN Security specialist @
Shiva Texyarn Limited; Hasta CBRN Ltd and Aska Equipments Ltd
Pune, Maharashtra, INDIA

Dear John,
Thanks a lot for this "small" Newsletter - really impressive! Have sent it to the NBC School in KORNEUBURG.
Best
Alois
--
Dr. Alois A. HIRSCHMUGL
D.M.A.T. Consulting KG
A-8501 LIEBOCH, Grüne Gasse 12


Dear Sir, many thanks for your message, and thank you for sending me the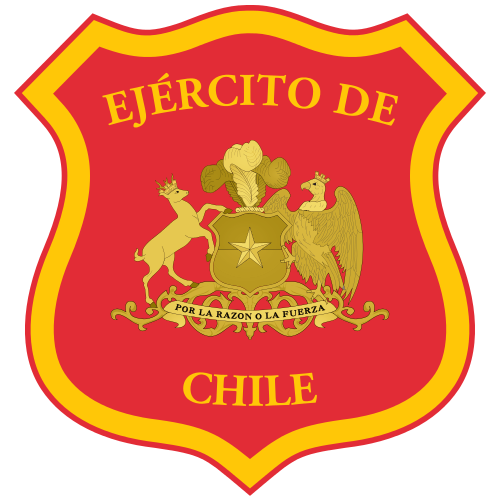 link. I just visited CBRNE -Terrorism Newsletter and I think it is a very comprehensive site over such an important topic.
Kindest regards,
Prof Christian Bolivar
Head, Strategic Studies Department, Army War College, Chile
Dear John
Thank you for being gracious, taking your time, creating this website/newsletter and forwarding this valuable information. As one who have personally been in your presentation/training, I know that how much we are in need of both your academic and operational knowledge and wisdom.
Joseph Lerner
President
GCIS Strategies Group Inc.
CANADA
Dear John:
Greetings from Mexico where I am on research for 3 weeks. Thanks for sending the latest edition -- it looks an exciting issue I am looking forward to reading it.
Cheers,
Vanda
Vanda Felbab-Brown, Ph.D.
Fellow
Foreign Policy
The Brookings Institution
Extraordinary and really amazing work!
Ioannis Michaletos
Security Consultant, Associate at Institute for Security and Defence Analysis (I.S.D.A), Greece
Dear John

,

Thank you very much for the inclusion of my articles in the CBRNE-Terrorism Newsletter. I've really appreciated it! At the same time I would like to congratulate you for the excellent publication with very interesting topics and articles.

Best regards

Luiz Hargreaves, AAS, MD, MSc

Expert in Crisis Management, Disaster Planning & Response, Health Care Management & Travel Medicine, Brazil
John,

Excellent website!

Regards,

Marc

Marc Glasser, MS, CPP, CEM, CORP, DABCHS, CMAS

Associate Professor at University of Maryland University College (UMUC)
Former Special Agent at U.S. Department of State, Bureau of Diplomatic Security
Las Vegas, Nevada, USA
Dear John,
The work you and your colleagues have done is outstanding! The Newsletter is a quality product for the CBRNE Community in Greece and abroad!
Dr. John M. Nomikos
Director, Research Institute for European and American Studies (RIEAS), Greece.